Drive Kenya Ltd offers professional, experienced, and well-trained drivers. We have a number of local drivers who can take you to any destination in East Africa. Our drivers are local fluent in English and many other local languages and in addition to that, they have wide knowledge about the region and road networks so you will be guaranteed safety and reach your destination in time.
You can choose to hire a vehicle with a driver or in case you have your vehicle but are not interested in driving in the city or driving for long hours, you can contact us and you hire one of our experienced drivers.
4x4s for Hire with a driver in Kenya and prices
5 Seater Family Jeep @ $110 Per Day

The vehicle is a Toyota land cruiser customized into a safari vehicle with 6 window seats. It comes with a 70 litter fridge, comprehensive insurance, air-conditioned at 110$, and that price includes driver's allowance.

7 Seater Family Jeep @ $190 Per Day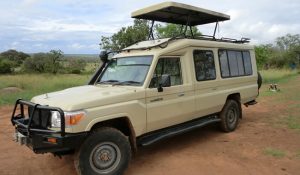 It's a Toyota land cruiser safari vehicle perfect for family or group tours in East Africa, the vehicle comes with a 70-liter fridge, air-conditioned and the price includes driver's allowance minus fuel.

Toyota Land Cruiser VGX @ $101 Per Day

This is a perfect vehicle for road trippers planning to explore remote areas of Kenya. The vehicle is fitted with a strong 1HZ diesel engine and manual transmission. The vehicle is fully insured, and air-conditioned.

Nissan Patrol @ $105 Per Day

This is another strong 4×4 available for road trippers in the region, The Nissan patrol is fitted with a 4200 cc diesel engine. It's offered for hire at 105$ per day and the price includes the driver's allowance.